The children have been busy with lots of art, for creative arts week. The children have been busy making music with instruments, using clay and water colour painting!
The Last Supper at JAM (Jesus and Me) Club
With the help of our friends from The King's Lodge, children acted out The Last Supper- even having a go at washing feet!
Healthy Lifestyles
In Wolves class, we were writing in chalk positive words about positive relationships.
Pancake Races
A brilliant day, full of pancake races with lots of competitive fun!
Open The Book February 2019
A great Worship, all about Abraham's children, delivered by the Open The Book team.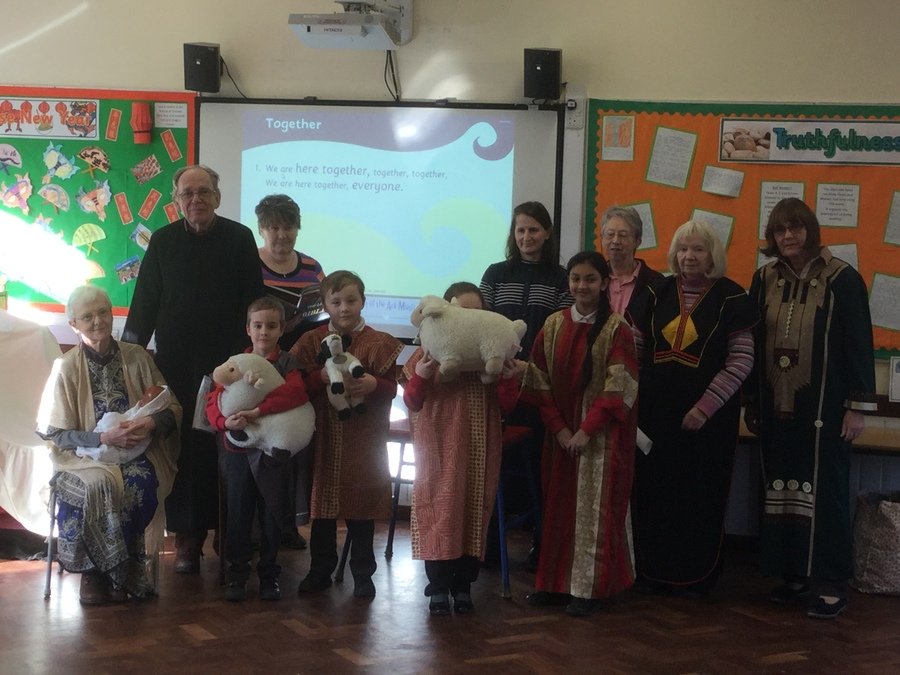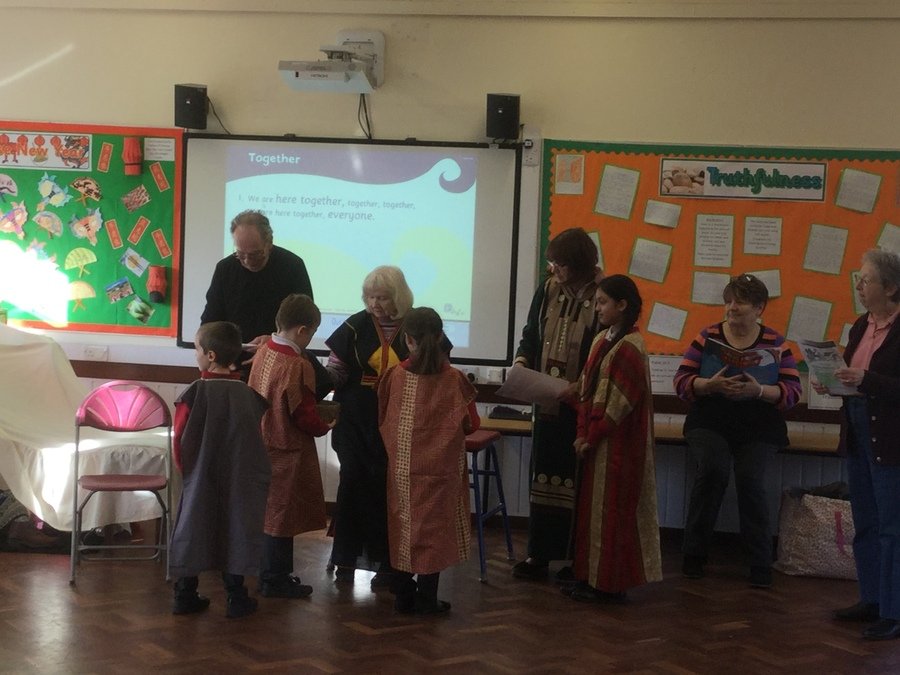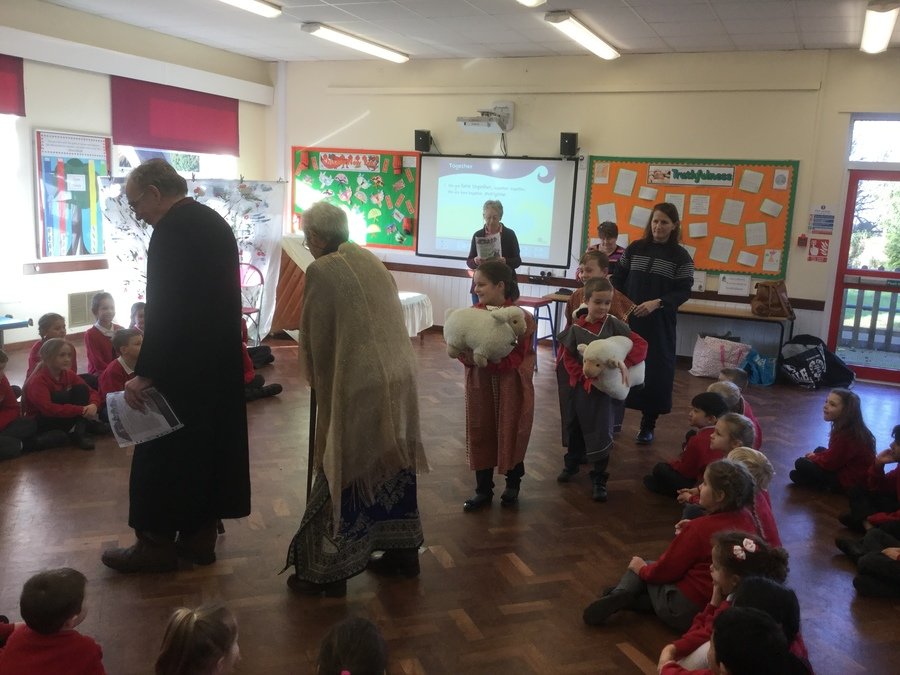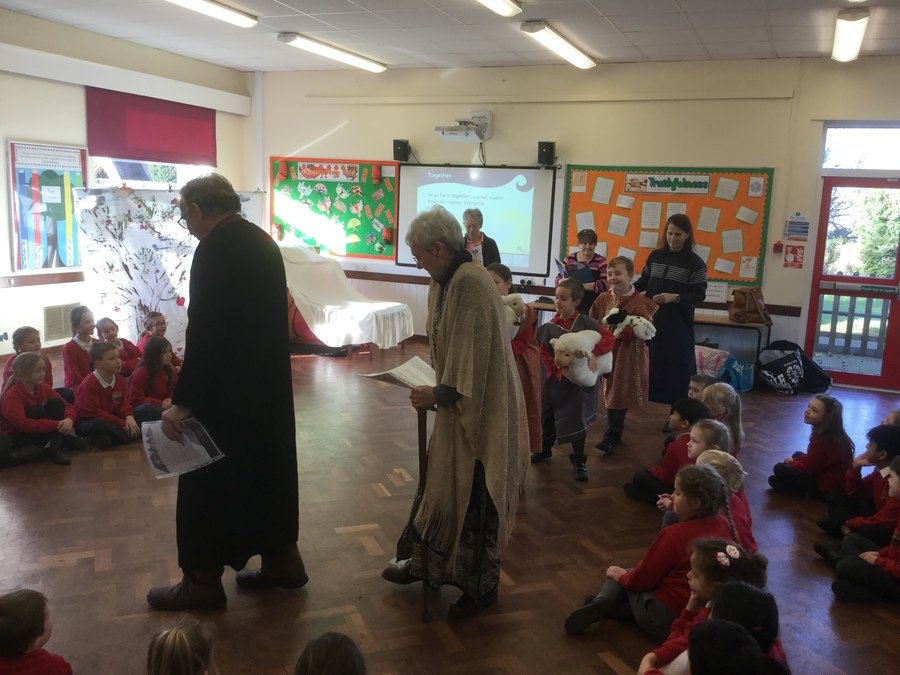 The Christmas Concert 2018
Squirrels and Hedgehogs class put on a great show 'The Inn-spectors'. Did they find baby Jesus' accommodation was up to scratch?
Beaumanor 2018
The children spent their first afternoon making land-buggies after unpacking and a treasure hunt. On Thursday and Friday, the children enjoyed canoeing, abseiling and climbing. The meals are quite a high point too!
Leavers Performance
Our Y4,5 and 6 children treated us to a fabulous end of term performance "School Daze"; a futuristic grandma and grandad looked back on the school days back in 2018........
Dinosaur Day
Foundation stage and Year 1 enjoyed a fun-packed day of dinosaur activities, including a hunt for clues around the school field. It was a great end to their topic for this half term.
Fire Fighters' Visit
Hegdehogs class really enjoyed seeing the fire engine and finding out how the hoses were used. They also found out about other sorts of rescues carried out by the fire fighters. They also did some excellent follow-up activities too.
Roald Dahl Day 2017
On September 13th, Roald Dahl's birthday, the whole school dressed up as characters from his books. There were Dannys, Sophies, Willy Wonkers, Umpa Lumpas and Matlidas, as well as the odd crocodile and roly poly bird. The children enjoyed a day of themed lessons and did 'stop everything and read' every time they heard the bell.
Welcome new hedgehogs!
On 29th August, we welcomed 13 new, foundation stage children into Hedgehogs Class. They are all settling in well, getting used to school routines and making new friends.
Sports Day
At the beginning of July we held our annual, traditional, sports day. The children took part in flat races, egg and spoon and sack races, as well as skipping and obstacle races. The races ended with the children supporting their pre-school brothers and sisters to race and of course, our very athletic mums and dads! Beech team were eventually victorious.
Y6 Sailing
As their end-of-year treat and after working so hard for their SATs, the year 6s enjoyed a sailing course at Bosworth Water Park. They mastered the art of dodging the boon to tack across the water and particularly enjoyed the capsizing drills! The last session ended with a party lunch in the café.The children were presented with their RYA part 1 booklets in School Worship.
Science Week
Just before half term, our annual Science Week took place. Children took part in bug hunts and pond dipping in our wildlife area; forces a states of matter activities in the classes and a 'Funtrition' workshop, led by Premier Sports. Children also enjoys visits to Ash End House Farm and Rosliston Forestry Centre.
Grand Prix Racing at Barlestone
In On 18th May, some of our Y5 & 5 children took part in a grand Prix challenge, with other local primary schools. They worked in teams to produce a K'nex vehicle and then took part in challenges to find out which car went the fastest and which went the furthest. We only narrowly missed the winners podium.
"It was great to meet children from other schools," reported Shane in Y4.
Creative Crafts Day
Just before Easter, the whole school enjoyed printing and stitching to produce leaves and animals for our Christian Values collage. The sessions were lead by local textile artist Mary Halbert. She was very impressed by the skills of the children and how well the older children supported the younger ones. "I did not know that I would make something so good," remarked one year 3 pupil. "I liked helping my partner in Hedgehogs' class," said one Y6 boy.
The collage is being sewn together by Mary and will be hung in the hall when completed.