Beaumanor 2018
The children spent their first afternoon making land-buggies after unpacking and a treasure hunt. On Thursday and Friday, the children enjoyed canoeing, abseiling and climbing. The meals are quite a high point too!
Leavers Performance
Our Y4,5 and 6 children treated us to a fabulous end of term performance "School Daze"; a futuristic grandma and grandad looked back on the school days back in 2018........
Dinosaur Day
Foundation stage and Year 1 enjoyed a fun-packed day of dinosaur activities, including a hunt for clues around the school field. It was a great end to their topic for this half term.
Fire Fighters' Visit
Hegdehogs class really enjoyed seeing the fire engine and finding out how the hoses were used. They also found out about other sorts of rescues carried out by the fire fighters. They also did some excellent follow-up activities too.
The King is Born
Our lower school performed an excellent nativity. The acting, singing, dancing and narration were praised by everyone.
Beaumanor Hall Residential
The Year 4,5 and 6 children enjoyed three action-packed days on their residential visit. For some, it was the first time they had slept away from home. They tried bridge building, canoeing, climbing and abseiling and many overcame personal fears as they tackled these challenging activities. Many thanks to Miss Rees, Mr Browning and Mrs Perry, who looked after the children so well.
Roald Dahl Day 2017
On September 13th, Roald Dahl's birthday, the whole school dressed up as characters from his books. There were Dannys, Sophies, Willy Wonkers, Umpa Lumpas and Matlidas, as well as the odd crocodile and roly poly bird. The children enjoyed a day of themed lessons and did 'stop everything and read' every time they heard the bell.
Welcome new hedgehogs!
On 29th August, we welcomed 13 new, foundation stage children into Hedgehogs Class. They are all settling in well, getting used to school routines and making new friends.
Class of '17
On 14th July we said a fond farewell to our Y6s. After a brilliant concert earlier in the week, they ended the week with an emotional end-of-term service, in St Peter's Church. We wish them well for their new schools and hope they stay in touch through siblings and friends, as well as visiting when they can.
Sports Day
At the beginning of July we held our annual, traditional, sports day. The children took part in flat races, egg and spoon and sack races, as well as skipping and obstacle races. The races ended with the children supporting their pre-school brothers and sisters to race and of course, our very athletic mums and dads! Beech team were eventually victorious.
Y6 Sailing
As their end-of-year treat and after working so hard for their SATs, the year 6s enjoyed a sailing course at Bosworth Water Park. They mastered the art of dodging the boon to tack across the water and particularly enjoyed the capsizing drills! The last session ended with a party lunch in the café.The children were presented with their RYA part 1 booklets in School Worship.
Science Week
Just before half term, our annual Science Week took place. Children took part in bug hunts and pond dipping in our wildlife area; forces a states of matter activities in the classes and a 'Funtrition' workshop, led by Premier Sports. Children also enjoys visits to Ash End House Farm and Rosliston Forestry Centre.
Grand Prix Racing at Barlestone
In On 18th May, some of our Y5 & 5 children took part in a grand Prix challenge, with other local primary schools. They worked in teams to produce a K'nex vehicle and then took part in challenges to find out which car went the fastest and which went the furthest. We only narrowly missed the winners podium.
"It was great to meet children from other schools," reported Shane in Y4.
Creative Crafts Day
Just before Easter, the whole school enjoyed printing and stitching to produce leaves and animals for our Christian Values collage. The sessions were lead by local textile artist Mary Halbert. She was very impressed by the skills of the children and how well the older children supported the younger ones. "I did not know that I would make something so good," remarked one year 3 pupil. "I liked helping my partner in Hedgehogs' class," said one Y6 boy.
The collage is being sewn together by Mary and will be hung in the hall when completed.
Pancake Races
The whole school joined in with our pancake races, marking the start of Lent.
Flat races and obstacle races were run, all whilst flipping pancakes. Younger siblings and parents and grandparents also took part. It was impressive to see great team-work when getting some granddads through quite small hoops!
In the end Beech team were victorious.
RSPB Big Bird Watch
At the beginning of February, all classes took part in the RSPB's Big Bird Watch. Children used binoculars and spotted many birds including jackdaws, wood pigeons, collared doves and starlings. We also heard robins and great tits. The children were helped to identify the birds and birdsong by Mr Terry (Roseanna's Dad). Mr Terry also set up his scope so that the children could see birds clearly, from a distance.
See the RSPB's website for details of how you can take part in your own gardens.
Nativity Play
In December, children from Squirrels and Hedgehogs Classes performed 'Busy, Busy Bethlehem' to packed halls in both the afternoon and evening performances. The words were said so clearly, the singing and dancing was excellent and the costumes were fantastic. Over £100 was raised for the Text Santa charities at the concerts and with the Christmas jumper day donations, the grand total was £216.33. Well done everyone.
MacMillan Coffee Event
On Friday 30th September, parents and grandparents were welcomed into the school to tour the classrooms and enjoy refreshments in the hall. They were greeted by our Year 6 pupils, who acted as ambassadors and guides throughout the afternoon. "I felt really proud of my school," reported a Y6 boy.
Mrs Felstead lead baking sessions with the Y4,5 & 6 children and they produced cookies, cornflake cakes and tiffin to sell in the afternoon. Parents also sent in cakes and over £180 was raised altogether.
Many thanks to all who helped make this such a great event.
Olympic Dance Day
On Thursday 23rd June, the whole school took part in a day of dance with and Olympic theme. Countries were chosen for each class and children performed a dance to traditional music from their country. Parents were invited into school to watch an 'Opening Ceremony' of flag parades and dances. Back in the classrooms, the children completed activities linked to their countries and tasted typical food. The whole day helped us learn about people from different cultures and traditions and the children were able to develop the British values of tolerance and mutual respect.
Science Week
On the first week back after Easter, the whole school took part in activities for Science Week. The children enjoyed the nature trails in the school grounds and pond dipping in the nature area. The children were very excited when they found newts!
On Tuesday the older children visited the Caterpillar factory in Desford. They all had the opportunity to sit in the diggers and take part in some engineering challenges. The younger children visited Ryton Pools, near Coventry, where they enjoyed finding out about different animal habitats.
Later in the week the Rotary Club sponsored 'Life Education Bus' visited school and delivered sessions about healthy life choices to the children.
Other investigations took place in the classes and included: dinosaur teeth testing, cloud formation and story telling with magnets.
The children's learning was greatly enhanced by having this week-long focus on Science and our thanks go to Miss Rees for organising the events as well as the parents who helped prepare the pond area over the Easter holidays and those who helped on the school trips.
Christian Creative Arts Day
On Monday 21st March the whole school enjoyed a creative arts day with an Easter theme.
The children made willow objects to do with the Easter story; a leaf for Palm Sunday, a fish to symbolise the disciples, a crown, a sword and a heart. They also made mosaic coasters and helped to create a large mosaic for the outside of school. Other groups made Easter gardens and Easter sunrise paintings as well as taking part in dance and drama.
The children took part in the teams, rather than classes and the older children supported the younger children very well when activities were tricky. Everything was displayed for open afternoon.
We thank Miss Bedford for organising the day, the PFA for supporting this event financially and the many parents who collected pots and boxes or who helped on the day.
Race to Rio
After school on Friday 18th March, children and parents took part in a joint event to launch our 'Race to Rio'.
The children ran twice around the school grounds and had to cross the finish line holding hands with their parent. They children had already run their mile for Sports Relief during the afternoon so altogether we were able to knock off a good number of miles but we've still got plenty to go!
Entry and refreshment money was collected for Sports Relief.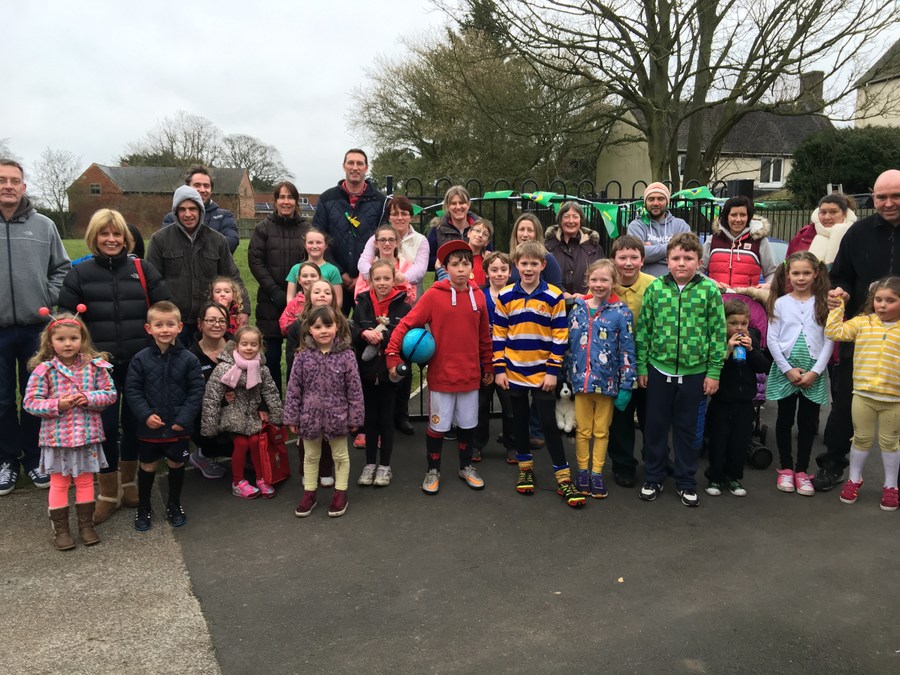 World Book Day
On Friday March 4th, school celebrated World book Day.
The children came to school dressed as their favourite book character and donated £1 each towards books for a school in the Masai Mara, Africa.
The day was packed with book themed activities, a particular highlight was DEAR (Drop Everything And Read) for 5 minutes every time the school bell rang.
Pancake Races
Pancake races were held on the last day of 1/2 term.
After our pancake song and a prayer the flat races began, followed by the obstacle race.
A good time was had by all and the winning team was Rowan.
Big Bang at Redmoor
Y2 and Y3 children from Squirrels class have made buggies to transport Santa. This was part of Redmoor Academy's Science and Engineering partnership work. Engineers from Caterpillar in Desford, worked with the children to design and make their vehicles.
They were then raced at Redmoor during their 'Big Bang' event in December.
Y6 children had also produced some designs for vehicle with alternative power sources, which were highly acclaimed.
Talent Show
The whole school was entertained by acts in a talent show to raise money for Children in Need. The varied 'bill' included a poetry recital, magic tricks, singing, dancing and Indian harmonium playing. Children paid £1 to enter and parents paid £1 to watch. Along with the non-uniform and cake donations we collected £154 for the charity
David Wilson Homes
Y6 visited the new houses being built in the village by David Wilson Homes.There they learnt about safety within the site and even tested how well a hard hat protected a watermelon from a falling brick!
They left with goody bags from the builders and a clear message about safety in and around building sites.